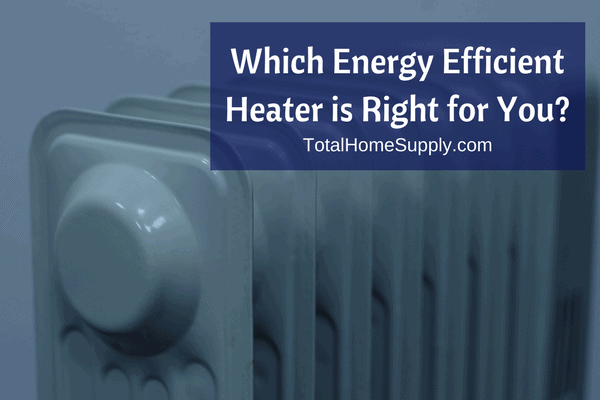 Cold weather makes it tempting to crank up the heat at home. Unfortunately, blasting the furnace all season long comes with its drawbacks — namely cost and energy usage.
If the thought of covering yourself up in every sweater and blanket you own all winter long sounds unappealing, then you may want to consider upgrading to an energy efficient heater. Contrary to popular belief, heaters can indeed be efficient — you just have to know what to look for when shopping for a heater for your home.
About Energy Efficiency
Energy efficiency is measured differently for different types of heaters. In general, gas heat is the most efficient type of heat.
Vented gas heaters
Vented gas furnaces use a number called AFUE, or annual fuel utilization efficiency rating, to measure thermal efficiency. AFUE is represented as a percentage of the amount of fuel that is turned into useable heat. The remainder is lost in the form of exhaust.
Here are some of our most efficient vented gas heaters:
Vent-free gas heaters
Vent-free gas heaters do not vent exhaust outside, so they are all rated 99.9% efficient. This makes vent-free gas heaters the most efficient type of gas heaters.
Before you jump in and purchase a vent free gas heater, please note that they are not ideal for every situation. For starters, vent-free heaters should not be installed in bedrooms, as this presents a risk for carbon monoxide poisoning.
Secondly, since ventless heaters do not vent their exhaust, they can add moisture to the air. This can be problematic for those who already live in a high humidity environment, or for those who are sensitive to high humidity.
Finally, vent-free gas heaters have a maximum of 30,000 BTUs. This means they should be limited to use in smaller rooms or areas, as the heater will not give off enough warmth to heat a larger space.
Some of our best-selling vent-free gas heaters include:
Whole home furnaces / warehouse heaters
Whole home furnaces and warehouse heaters also use AFUE to measure efficiency. All of these products have some form of power vent that allows them to more efficiently transfer the exhaust outside without losing heat.
Our most efficient whole home heaters are:
Our most efficient warehouse heater is the Reznor UEAS-130 130,000 BTU V3 Power Vented Gas Fired Unit Heater, which has a thermal efficiency of 93%.
Electric heaters
Electric heaters cost more than gas heaters to operate and require a lot of power, making them highly inefficient.
However, there are some forms of electric heat that are better than others. Infrared heating panels use special technology to heat an object directly versus the air, mimicking the heat of the sun. This requires less power than other types of electric heaters. As a bonus, infrared heat allows you to instantly feel warm.
Conclusion
To recap, vent-free gas heaters are the most efficient heaters, but they're not ideal for everyone. Vented gas heaters with an AFUE rating of 90 or higher are versatile and can be installed in rooms of virtually any size, depending on the BTUs. (For assistance with calculating BTUs, consult our Heating BTU Calculator.)
At Total Home Supply, we offer free shipping on all of our heaters to anywhere in the contiguous United States. Be sure to check out our selection of gas heaters and contact us if you have any questions about our products. We're here to help you find an efficient heating solution for your home.