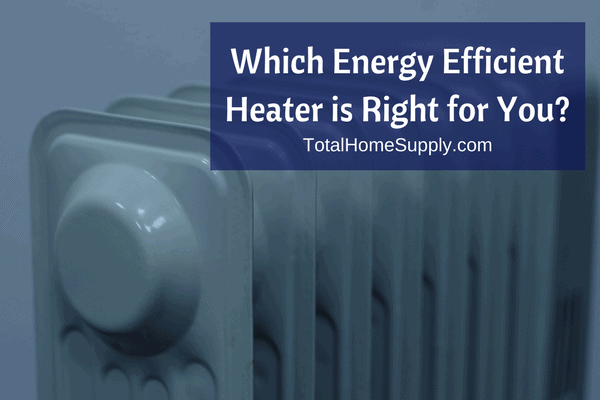 Cold weather makes it tempting to crank up the heat at home. Unfortunately, blasting the furnace all season long comes with its drawbacks — namely cost and energy usage. According to the Department of Energy, the average residential electricity rate for 2022 is up by 8% over the previous year. In some states like Florida, Illinois and New York, the rates are up by a staggering 15%. Across the pond, our British cousins have it even worse, with an astonishing 80% surge in energy bills.
In the winter of 2022, energy efficiency is the name of the game. If the thought of covering yourself up in every sweater and blanket you own all winter long sounds unappealing, then you may want to consider upgrading to an energy efficient heater. Contrary to popular belief, heaters can indeed be efficient — you just have to know what to look for when shopping for a heater for your home.
About Energy Efficiency
Energy efficiency is measured differently for different types of heaters. In general, gas heat is the most efficient type of heat.
Vented gas heaters
Vented gas furnaces use a number called AFUE, or annual fuel utilization efficiency rating, to measure thermal efficiency. AFUE is represented as a percentage of the amount of fuel that is turned into usable heat. The remainder is lost in the form of exhaust.
Here are some of our most efficient vented gas heaters:
Rinnai EX38DT 38400 BTU EnergySaver Direct Vent Wall Furnace
​This direct-vent wall furnace has 38,400 BTU of heating capacity, and is a great source of heat for large rooms in most of the country. It is highly flexible, capable of being installed almost anywhere along an outside wall, while offering several venting installation options.
It uses Rinnai's modulating technology to optimize the heating efficiency. This is done by monitoring the room temperature 2 inches from the floor and detecting temperature changes less than 1°F. If a door opens and a sudden gush of cold air rushes into the room, the furnace automatically adjusts the fan speed and BTUs to restore the room back to its set temperature quickly.
It also boasts WiFi connectivity and auto-restart features.
Williams Furnace Company 177351 17,700 BTU High Efficiency Direct Vent Wall Furnace
This highly efficient indoor heating unit is capable of up to 17,700 BTUs of heat. It has a compact design just 8.25 inches deep, making it ideal for garages, workshops, and bedrooms. 
It features a sealed combustion chamber that completely seals the gas flame inside the unit and away from all contact with the air in the room for added safety. This allows it to operate completely electricity-free, so that it works even during a power outage. It also has a built-in thermostat and will not work with an external thermostat.
Vent-free gas heaters
Vent-free gas heaters do not vent exhaust outside, so they are all rated 99.9% efficient. This makes vent-free gas heaters the most efficient type of gas heaters.
Before you jump in and purchase a vent free gas heater, please note that they are not ideal for every situation. For starters, vent-free heaters should not be installed in bedrooms, as this presents a risk for carbon monoxide poisoning.
Secondly, since ventless heaters do not vent their exhaust, they can add moisture to the air. This can be problematic for those who already live in a high humidity environment, or for those who are sensitive to high humidity.
Finally, vent-free gas heaters have a maximum of 30,000 BTUs. This means they should be limited to use in smaller rooms or areas, as the heater will not give off enough warmth to heat a larger space.
Some of our best-selling vent-free gas heaters include:
Natural gas or liquid propane:
Rinnai FC824 24,000 BTU Vent Free Fan Convector Gas Heater – Choice of Fuel Type
Blue flame gas heaters:
Empire Comfort Systems BF-30 30,000 BTU Blue Flame Vent-Free Gas Heater
Heatstar HSSVFBF30 30000 BTU Vent Free Blue Flame Heater with Thermostat and Blower
Mini Splits
For heating larger spaces, mini splits are more efficient than central heating. This is due to:
Lack of ductwork – this allows the heat to be delivered more efficiently, while minimizing any air leaks that allow heat to escape.
Inverter technology – Mini splits have variable-speed inverter compressors that can run at just the right power setting to maintain the desired room temperature.
Voltage converters – DC power is more energy-efficient than traditional AC electricity. With voltage converters, mini splits take advantage of this energy savings.
These factors allow mini splits to achieve optimal SEER (Seasonal Energy Efficiency Ratio) ratings, which is a measure of energy efficiency. While most central air conditioners with heat pumps hover between 16-30 SEER, ductless mini splits boast SEER ratings of 20-30 or more.
Our Recommended Energy Efficient Mini Split:
Friedrich FPHW121A 12000 BTU Floating Air Pro Series Single Zone Mini Split with Built-In WiFi – Heat and Cool
This single zone mini split system consists of an indoor and outdoor unit capable of 12,000 BTUs of cooling and up to 13,000 BTUs of heat, for a space up to 600 sq. ft.. It boasts high efficiency ratings including a 22.0 SEER and 13.0 EER, thanks to Friedrich's inverter technology that adapts the compressor speed to run just enough to maintain the desired temperature.
Other features include built-in WiFi for smart home integration via the FriedrichGo app, Amazon Alexa and Google Assistant voice recognition, and a hidden display that's only visible during operation.
Conclusion
To recap, vent-free gas heaters are the most efficient heaters, but they're not ideal for everyone. Vented gas heaters with an AFUE rating of 90 or higher are versatile and can be installed in rooms of virtually any size, depending on the BTUs. (For assistance with calculating BTUs, consult our Heating BTU Calculator.)
At Total Home Supply, we offer free shipping on all of our heaters to anywhere in the contiguous United States. Be sure to check out our selection of gas heaters and contact us if you have any questions about our products. We're here to help you find an efficient heating solution for your home.
For tips on how to reduce your heating bills this cold season, check out:
8 Practical Tips to Lower your Heating Bill this Winter