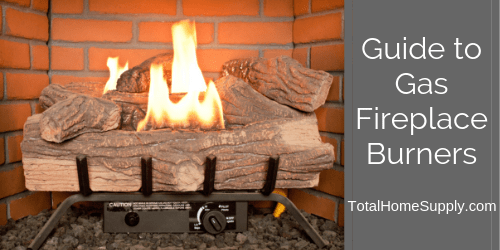 As the winter months turn colder, many homeowners are making sure their heating systems are in tip-top shape.
If you, like many these days, have a gas fireplace in your home (or are thinking about getting one), it may be time to shop for a gas log burner. Burners are installed in gas fireplaces to support the log sets and to power and control flames.
When it comes to choosing a gas log burner for your fireplace, it can be tough to know exactly what to look out for in comparing options.
Below we've rounded up some of the most important considerations when choosing a gas log burner.
Types & Features to Consider
Before you start shopping, it is important to know the different components that set one burner apart from another. Here we will look at each one so that you can be properly informed when you set out to buy.
Contemporary vs. Traditional
Let's start with aesthetics. Most gas fireplaces fall into one of two designs: contemporary or traditional. You'll want your gas log burner that supports the style of fireplace you get. Contemporary fireplaces typically use colored glass pieces which require a specific type of burner that's different from one used for a traditional burning log set. Traditional log set burners support log sets and give off the more classic, cozy feel.
Indoor vs. Outdoor
Where do you want to put your gas fireplace? Depending on its location indoors or outdoors, you will find that some burners are better than others.
Essentially, you want to make sure that any burner slated for use outside is equipped for the elements so that it doesn't rust and cease working. When choosing an outdoor burner, you'll want to scope out one that has weather resistant materials in its construction. Typically they will state whether they are intended for indoor or outdoor use.
Valve and Ignition Type
Gas fireplaces have various types of valves and ignitions that all work a little bit differently. Here we'll break down each one so that you can determine the best fit for you.
Millivolt – A millivolt safety pilot valve can connect to devices that can turn off the gas, such as an on/off switch, thermostat, or remote control. These are quite similar to manual safety pilot valves the way they control the burner.
Variable flame – Do you want to control how high or low your flames dance? With a variable flame burner system, you can control the flame height using a remote control from anywhere else in the room or space.
Intermittent pilot – Intermittent pilots create heat by using electric ignition systems. Once the electric signal is sent to the burner, a gas is released into the pilot to warm the heating element or emits a spark, which then ignites the gas. From there, the activated burner warms your home.
Electronic ignition – Electronic ignition switches are frequently used on newer systems, which require electricity to start up. Most electronic ignitions these days have a battery backup, so even if the power goes out, your fireplace will keep on working.
Manual control – There's no problem with going old school. Manually controlled gas valves are lit with a match, and the flames are adjusted in the gas valve itself. While this is the cheapest option, it is also the most hazardous, especially for homes with small children.
Type of Venting
Another component to keep in mind as you shop around is the vent type. If your fireplace is already set up, you'll want to stick with the venting option that is already in place. However, if you are purchasing a new fireplace, it is a good idea to weigh out the differences in your choices.
Vented
In vented gas log setups, the gas fumes are vented up through the chimney. While this setup is popular for the large flames and aesthetic, they are also the least efficient. Vented systems can be connected to manual gas valves, safety pilots, or millivolt pilot valves.
Vent free
Requiring about half the fuel of a vented system, vent free gas log sets operate with the fireplace damper closed, meaning that the heat is being sent into the room, instead of up the chimney. This setup increases efficiency and can connect to wall thermostats or remote controls. Vent free gas log sets are great choices for vent-free firebox enclosures.
Both
Why choose one option when you could have both? The dual vented/vent free gas log burners can be used in a traditional flue vented fireplace or one that does not have a flue, for maximum versatility.
Size
This might seem like a no-brainer, but one key consideration in your search is the size of your firebox or fireplace. Make sure that you measure and know the specific size requirements of your fireplace so that you gas burner you select is not too big or too small.
Fuel Type
Gas fireplaces are generally powered by one of two types of fuel: liquid propane or natural gas.
If your current appliances use natural gas already, it is likely that you will want to stick with this fuel option for your gas fireplace, too. Same idea with liquid propane –– if you already have that line set up in your home, it may be best to continue using that option.
In the event that your home is not set up already for either gas type, consult a local professional to see which choice would be best for your situation.
Ready for Remote
Many gas fireplaces allow you to control some functions of your fire using a remote. These remotes generally include on/off control as well as variable flame height control.
Find the Gas Burner That's Right for You
There are many different aspects of gas log burners to know about before you set out to buy a new one or replace your current one.
Depending on ease of use, location or use, and design style you're going for, there are many different options to consider. Luckily, here at Total Home Supply, we are dedicated to bringing you a wide selection so that you can be sure to find the perfect one for your home.
Are you ready to start shopping? Browse through our wide selection of burners for gas fireplaces here and let us know if you have any questions about which would be right for you.