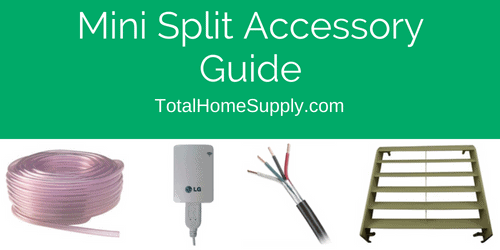 For those who have bought a mini split air conditioner, you're probably already pleased with its efficient and quiet ductless operation that consistently cools your home. For those thinking about purchasing a mini split soon, you have a lot to look forward to. In the beginning or over time, you may find that some additional accoutrements can enhance the performance of your unit.
Some mini split accessories are must haves, while others are simply nice add-ons. Here we'll take a look at some of each so that you can better pick out what you may need.
Mini Split Components You Should know About
There are many different ways that you can enhance your mini split unit so that it adds an enhanced level of convenience or comfort (or even both!) to your home, office, or other space.
Line sets
Another mini split component integral to the operation of your system is the line set, which is comprised of two semi-flexible copper pipes connecting the outdoor and indoor units.
These pipes transport the refrigerant throughout your system to keep the cooling process going. Each line set contains one large and one small pipe. The larger of the two is the suction line, which transports refrigerant in its gaseous state, and the smaller liquid line, which transports the refrigerant in the –– you guessed it –– liquid state.
It is crucial to select the right size for your system, as ones that are too large or small will cause your system to malfunction.
Line set covers
One of the great aspects of a mini split system as opposed to a window air conditioning unit or portable heater is that it provides the warmth of a traditional duct system without all of the space-occupying annoyance of other units. Most of the time, when it comes to the installation of a system, there are inevitable line sets that cannot be installed in the wall.
Line set covers take care of this problem by blocking the line set from view and helping it to blend in with the wall. You can also paint the covers to match the wall color. While this mini split accessory is nice to have, it is not necessary.
Mini Split Wire
Along with the line set each mini split must have electrical wire that carries power can communication from the outdoor unit to the indoor unit. For optimal performance, specific mini split wire must be used.
Wifi Adapters
A part of the Internet of Things technology shift, now you can control many of your home appliances through smart technology made possible by wifi adapters. These specialized units hook up to your system to make them compatible with an app on your phone or tablet.
This accessory is perfect for the frequent traveler or on-the-go homeowner, as you can control your system from anywhere. While this accessory may seem just like a modern convenience, as we increasingly make more of our things internet accessible, we can better control the environment in our homes.
Wifi adapters for your mini split system offer a level of peace of mind that you can adjust your system with the tap of a button.
Regular remote controls
While your system probably came with a remote control, it is always good to have a spare. Or, should you ever lose your remote control, it's great to know that you have the option of replacing it.
Be prepared with a remote you can store for safekeeping until you need it.
Condenser pads
It is ideal to mount your mini split units directly onto concrete where possible. In instances where this isn't possible, condenser pads can be a great second option.
When placed on solid ground, these condenser pads can support the weight of the unit so that it stays securely in place.
Brackets for condenser units
Depending on how you end up installing the outdoor unit for your mini split system, you may end up needing brackets for condenser units in order to hold yours in place.
Unless you are placing your unit outside on the ground, these brackets are necessary in order to ensure that your system is installed safely. If installing yourself, be sure to check with an HVAC specialist so that you have everything you need for secure setup.
Drain tube
Each mini split indoor unit produces condensation that needs to be drained away. This harmless water can be drained directly outside or into a drainage system. Most units only come with a small drain line that can be easily extended with additional drain tube.
Condensate removal products
If you are not able to drain your unit with gravity, you will need a condensate removal pump. These compact pumps can be installed in the wall or under your unit and will pump away any moisture created during the cooling process.
Drain pan heaters
In cold climates, ice may form in the drain pan of the outdoor part of your system, and inhibit the performance of your unit. A drain pan heater can alleviate this issue in very cold climates where it happens frequently, but may not be required in more temperate regions. Drain pan heaters also help to expand the heating range of the unit.
Wind Baffles
Wind baffles are used to extended the cooling range of a unit to lower temperatures. If you have a space like a server room that needs to be cooled all year long even when it is cold outside, a wind baffle can help. Be sure to check the specs of your unit, but some can allow cooling down to 0 degrees outside.
Surge Protectors
Mini split systems run on electric power which means they are susceptible to power surges and lightning strikes. Either of those events can harm the electrical equipment inside your system. A specially designed surge protector can be used to keep the system safe.
Maintenance accessories
The best way to make sure your system lasts a long time is to keep your system clean and maintained. You can avoid many issues down the road by cleaning out the system and the coils inside.
There are bib kits and condenser cleaners alike that can help you keep your system looking and performing its best.
Boost Your Mini Split System
There are many different types of mini split accessories and components that you can use to deck out your system for maximum comfort, convenience and safety.
In the end, you'll just need to decide what things you really need, what will make life easier, and what you're willing to budget for those items.
Check out our wide range of mini split accessories and get to optimizing your system today!