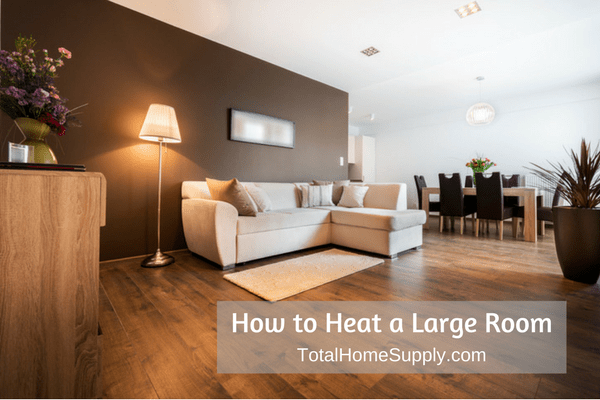 There's nothing worse than getting stuck in a big room that's not heated properly. You either end up shivering while wearing three different sweaters, or face the uncomfortable feeling of hot air blowing right at your head.
Don't make the mistake of investing in the wrong kind of heater. You want to find the best way to heat a large room to ensure that you and any others who might be in the space have a comfortable and warm (but not too warm) experience.
So, if you've got a big room that you need to arrange heating for, where do you start? Here we'll discuss how to find a heater for your large room to keep you as cozy as possible this winter.
Calculate the BTUs of the Large Room
What constitutes a large room may be relative in the eyes of the beholder, but there are a few ways you can go about surmising how the size of your room will affect the heating needs you should explore.
The actual square footage of the space you are working with is only one of the considerations when looking into heaters for a large space.
Other elements that can affect the heating of a room include:
Insulation quality
Ceiling height
Window size and type
House location
For example, living in Vermont versus Virginia versus California will have a big impact on how well and how efficiently the heater can operate.
One way to gauge the appropriate type of heater for your space is calculating the British Thermal Units, or BTUs. BTU is a measurement of the energy required to raise the temperature of one pound of water by one degree.
Total Home Supply has a handy heating BTU calculator tool that can serve as a guide to finding the right heater for your large room. Simply plug in the length, width, ceiling height, insulation, and lowest outside temperature, and the calculator will tell you the BTU/hr required. By finding this number and using it as you sort through the options available, you can better choose a heater that will work efficiently and effectively.
What Types of Heaters Are Best for Heating a Large Room?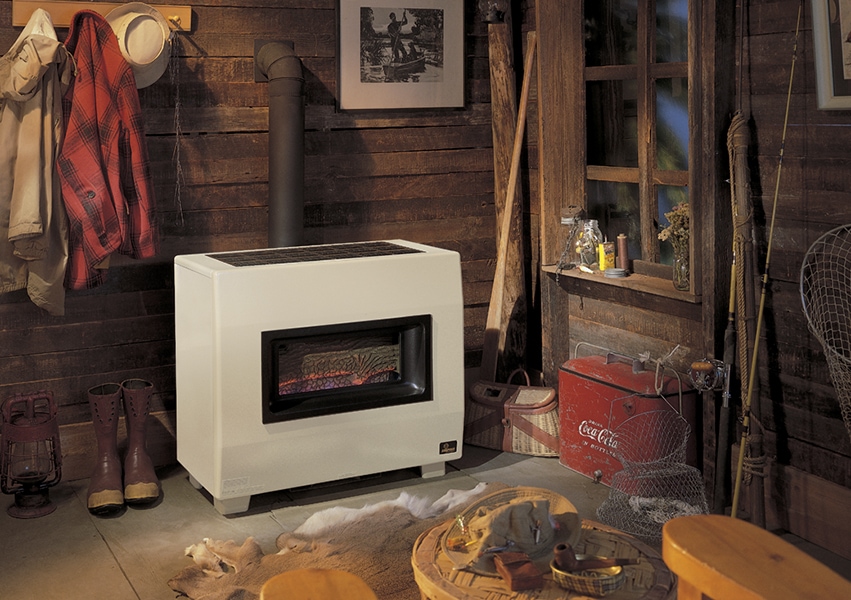 When it comes to heating a large room, a lot of different heaters might seem to fit the bill, but keep in mind that the biggest problem often encountered in heating big rooms is that the hot air makes it to all corners of the space.
For that reason, airflow, in addition to capacity, should be at the forefront of your purchasing considerations. In other words, you want to make sure that the heat blows to every part of the room. Don't rely on just the heater itself and its power.
Many people heating open rooms or cabins opt for a heater that also has a blower, which can push the air further and distribute it more evenly as well. You might even supplement the heater itself with additional fans. Ceiling fans work great as they send the hot air from the upper part of the room back down below.
By choosing an option that maintains even air flow and temperature, you can avoid certain parts of the room being drafty or overheated. Many people use console heaters for spaces like this. Console heaters are freestanding top-vented heaters with built-in blowers that provide flexibility in space heating options. For added ambiance, some of the console heaters even include realistic fireplace fronts.
Find the Perfect Heater for Your Large Space Today!
With this information in mind, you should be ready to start searching for the heater that you need. Total Home Supply carries a variety of different types of heaters that could be the right fit for you and your large room heating needs.
We carry many heater brands that you know and trust, such as Williams Furnace Company, Reznor, ProCom, Duraflame and more. If you aren't sure which option is the right fit or you just need a little help narrowing down your options, feel free to contact us and we would be happy to steer you in the right direction.
Take a look around at the many different heaters offered at Total Home Supply, and you're sure to find the heater that will be the perfect fit for your large space, and keep all of its occupants happy and comfortable.