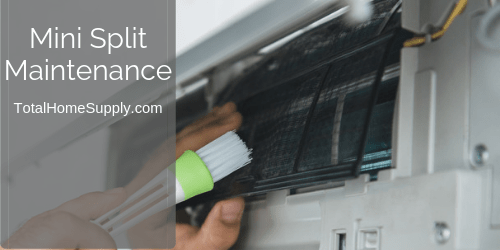 You've already made a great choice by getting a mini-split unit that heats, cools, or does both for your home or other space.
Once your mini split air conditioner is installed and running smoothly, you may forget that there is another important step to keep in mind: maintenance.
Like any home appliance, mini split air conditioners run at their best when they are kept up and maintained properly by regular cleaning and checkups. However, most people aren't quite sure where to start when it comes to maintaining a unit like this.
That's why we've put together this handy how-to guide that lays out everything you need to know about keeping your unit clean and running in tip-top shape.
Why Is Maintaining Your Mini Split Unit Important?
We already mentioned that routine mini split maintenance checks keeps the device running its best, but why else should you care?
For one, regular cleaning is the best preventive measure you can take against issues such as unpleasant smells or odors, growing mold, and internal pieces getting worn down. When the unit is left unkempt for a long time, these issues tend to arise.
Another big reason why mini split cleaning is significant is for cost saving, too. When the system is running at its peak performance, it doesn't have to work as hard. Higher energy efficiency in your air conditioning or heating unit helps lower your bills each month.
How to Clean a Mini Split Air Conditioner
One question that many people ask about mini split maintenance is regarding frequency. In other words, how often does a mini split system need to be cleaned? The answer partially depends on what kind of mini split unit you have and how often you use it.
If you have just an air conditioning system, make sure to clean it before and after using it (at the beginning and end of the hotter seasons wherever you live). On the other hand, dual systems that include heat and AC, you should clean them before and after each season.
Within the system, the parts most frequently in need of being cleaned are the cooling fins and the coils.
Products For Mini Split Cleaning
As with many appliances, having specific tools at your disposal to do your cleaning and fixes can make all the difference. Below are a couple of our favorites to work with:
1. SpeedClean CJ-125 CoilJet Coil Cleaner System
If you value ease and efficiency in your cleaning tools, look no further than this coil cleaner system from SpeedClean. This system works by delivering a powerful spray of water from a portable pack to clean off your evaporator coils and condensers. As opposed to a power washer, this system is pressurized so as not to overwhelm the condensate lines, giving you versatility and maximum performance.
The cleaner system also has a separate tank for both water and cleaners/chemicals. With this product, you can make sure that the coils in your mini split are totally clean, and your system functions as smoothly as possible. Paired with the Mini-Split Accessory Kit, it is easy to clean the coils and make them like new.
2. SpeedClean MSB-KIT Mini Split Bib Kit
Clean up the mess without leaving a mess using this mini split bib kit from SpeedClean. This kit is a great option for cleaning your mini split coils, fans, and more. With this item, you can attach a plastic bib to your system (up to 44" wide) so that it catches the dirt and debris when spraying. There is also an XL kit for wall mount units up to 60″ wide and a ceiling cassette kit for the tricky to reach ceiling units.
With everything you need to get started in the box, and each bib lasting 10-12 uses, this option is a cost-effective way to make sure you are ready to clean your mini split when the time comes.
3. At Home Products
If you don't have specialized products at the ready to clean your mini split, never fear. Some home cleaning products and smaller vacuum accessories can be a great help to get started with. Review the manual for you system to better understand cleaning instructions and products that can be used.
Additional Mini Split Cleaning Tips
Beyond the general cleaning that should be regularly performed on your unit, it is also a good idea to keep an eye out for some of the other common fixes that you might need to do.
1. Replacement Pieces
From time to time, you may find that certain parts in your system get worn down and are in need of replacement. The two most common parts you may need to replace are the air filters and the coils, as these are integral pieces to the function of the machine itself.
2. Tightening Pieces
Similarly, inside the system over time some pieces may become loose, such as certain screws or smaller parts. When you are cleaning your system, be sure to keep an eye out for anything that could be tightened and give each bolt or screw a quick check.
3. What If You Come Across Issues During Your Maintenance?
As you maintain your mini split unit, other issues may occur. Some problems can be solved by basic troubleshooting, whereas others might require the help of a professional.
Depending on your level of comfort with making fixes and adjustments yourself, calling an HVAC specialist may be the way to go. These individuals are intimately familiar with the inner workings of the system, and can best advise on whether or not it is worth fixing your unit, or if it's time to get a new one.
When in doubt, call for a consultation to ensure that you're making the right move for your particular situation.
Take Care Of Your Mini Split, So It Takes Care Of You
Ongoing maintenance of your unit has many practical benefits, including energy efficiency, cost savings, overall comfort, and a longer life for the unit in general.
To make sure you are properly cleaning your system, it's a great idea to have the right equipment ready, including any accessories, coil cleaning systems, or mini-split bib kit units that can help you get the job done.
If you're ready to optimize your system's performance, we've got you covered at Total Home Supply. Head on over to our mini-split accessories department to check out our many great offerings.
Learn More About Mini Split Cleaning and Maintenance
How to Clean & Change Your Air Conditioner Filter
Amana PTAC Maintenance & Cleaning: A Reference Guide