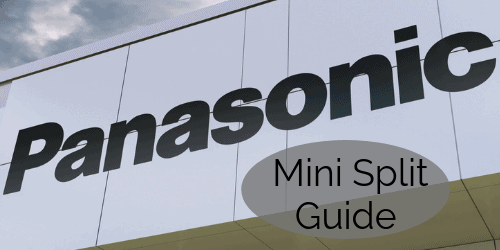 For over 100 years, the Panasonic brand has been known for its electronics.
Panasonic is a multinational corporation that operates globally in over 140 countries. The Panasonic headquarters are located in Osaka, Japan, where the company was founded by Kōnosuke Matsushita in 1918.
With offerings in products ranging from home entertainment and beauty care to cameras and home appliances, people around the world outfit their homes and lifestyles with Panasonic. Among those houseware Panasonic HVAC products are its mini split units.
Panasonic is a great brand to consider checking into when adding mini split capabilities to your home, office, or other space. If you are in the market, why not go with a brand that you know and trust?
Learn more about the features, technologies, and options that make Panasonic mini splits a solid addition that will be sure to cool you down.
Quick Overview of Mini Splits
If you're a frequent reader of the Total Home Supply blog, you already know that we believe mini split systems are a great option when it comes to cooling your space. Also referred to as "ductless air conditioners", a mini split AC unit does the same job as your traditional air conditioner but functions differently.
As opposed to the duct system of traditional in-home central air conditioners, mini splits work by way of an indoor and outdoor unit. Warm air from your home is blown over refrigerant-filled evaporator coils that absorb the heat and run it to the outside unit.
The hot home air is dumped outdoors, while the cool air is then blown back into your home. Many systems also have the option of adding heating functionality as well with a heat pump.
Benefits of Panasonic Mini Splits
In general, mini split units have a host of benefits, including quieter operation and more efficient energy usage. Mini splits also come with different zone capabilities. So if you have a single room or multiple areas you need to keep cool, it's easy to select a single zone or multi-zone mini split that will work best in your space.
Beyond the advantages you can expect with any mini split system, Panasonic mini splits have an array of exceptional features that make them stand out from the pack.
ECONAVI Technology
While typical units are versatile in that they can help you target specific areas of your home, the Panasonic mini split units come with ECONAVI Technology to bolster efficiency.
This feature works through a sensor that first detects human presence in the room and directs the airflow in a more targeted manner rather than uniformly around the room. In addition, the sensor also monitors the level of human activity and adjusts the amount of air being blown outward.
If you're wanting to up your energy efficiency, this updated technology will help you do it more strategically. Here's a video with more information about the ECONAVI Technology.
Durability Tested
One of Panasonic's trademark commitments is to build its products with quality parts, and rigorously testing them in various scenarios to ensure their durability. As much as possible, Panasonic engineers test the units in real-world situations to verify their resilience against the elements.
With a Panasonic split system, you can rely on the fact that it has undergone the long-term durability test, compressor reliability test, and the low temperature outside air test, among others. Additionally, they also test the units' ability to withstand weather and humidity, as well as other environmental and component testing. Here's a video showcasing the durability testing.
According to the company video, they are "building on the Japanese tradition of uncompromising quality control worldwide." With Panasonic products, you can rest assured that their longevity has been verified.
Excellent Warranty
Apart from knowing that a Panasonic ductless air conditioner is built with craftsmanship, their products also have limited warranties on the compressor and other parts. For the United States, the compressor warranty is seven years, while other parts (except controllers) are five years, and controllers are one.
Popular Products
Panasonic offers a wide array of mini split options at various price points. Typically speaking, Panasonic split air conditioner prices are more affordable than some of their competitor options, with most models falling in the average price range of $1,000-$3,000. It is always a good idea to look closely to compare features on different products when shopping.
Here are a few popular Panasonic multi-zone mini split systems:
Find the Right Panasonic Mini Split for You
Overall, Panasonic mini split offerings demonstrate the versatility, precision, and quality excellence that you have come to expect from this company for over a century. Whether you're blasting air to one space with a single zone system, or cooling down the whole house with a multi-zone setup, you'll surely be satisfied with Panasonic.
From their cutting edge ECONAVI technology that helps you cool more efficiently while saving energy and money, to their company-wide commitment to quality products, to the array of options for many different situations, models from this brand are sure to get the job done well.
Plus, with affordable prices on mini split units, you don't have to sacrifice durability. The product warranties cover some parts of the machine for up to seven years.
Are you not quite sure where to start? No problem. Here at Total Home Supply, we have a dedicated team of experts who can help you figure out which Panasonic mini split unit is truly the right fit for your situation.
If you are ready to get shopping, we've got you covered too. Take a peek at our current Panasonic offerings. In a few clicks, you can get high-quality cooling by a trusted name in home appliances directly to your doorstep.