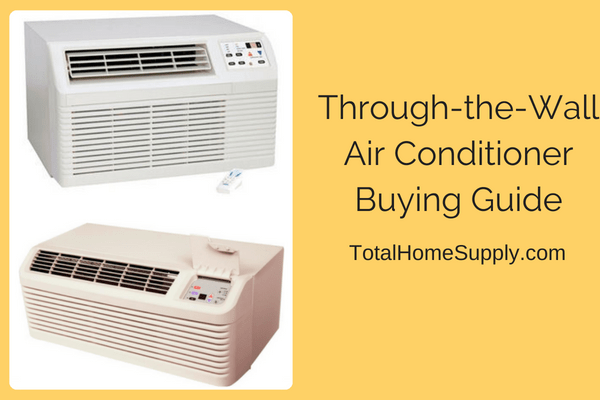 Finding the right air conditioner for your home or living space can be a challenge –– especially since there are so many different options available.
Depending on the type of space you are wanting to cool down, a window unit, central air, portable AC units, fans, or some combination of those units can be the best bet, but it's tough to know which one can be the right fit for you.
One type of air conditioner that is lesser known but can be a great option for many individuals looking for a cooling option is through the wall air conditioners. These units essentially function the same way that window units do –– retrieving fresh air, running it through coils to cool it, then sending the air into the room. Unlike window units though, through the wall air conditioners are installed in a hole in an exterior wall, and require installation of a sleeve due to the weight.
For those looking to cool a single room, or are worried about a unit taking up space, these units can be a great option to consider.
We will walk you through some of the most important things to take note of when buying a through the wall air conditioner, so that you are prepared to make the right purchase when the time comes.
Benefits of Through the Wall Air Conditioners
There are many reasons why through the wall air conditioners might make sense for you. It's important to note that the coverage area for this type of AC unit is around 200-800 square feet, so the is not a whole home solution. These air conditioners are meant to cool single rooms or areas and do require a bit more upfront installation work than a window unit. Here are a few of our favorite features of through the wall air conditioners:
Visual Appeal
While we've made many strides when it comes to air conditioner technology, one element that still remains lagging is the visual design. In other words, most people do not want their air conditioner to be the focal point of a room, and actually prefer to place it somewhere unobtrusive.
For this reason, through the wall ac units are a good choice, as they fit tightly inside the wall, and do not jut out too far into the space or draw attention to themselves. They don't take up window space which keeps the windows in the room open for their main purposes, like having a nice view. They are also easier to blend in with the decor of the room.
Space Saver
Similarly, air conditioners installed in the wall also save space, as they are often installed higher up or out of the way. This element makes them perfect for particularly small rooms or office spaces that need to take advantage of every square inch.
Convenience
If you are using the air conditioner for a room that isn't used all the time, these units can simply be turned off when the room isn't in use.
Also, since most of us live in climates where air conditioners are only needed for some portion of the year, having an air conditioner installed in the wall cuts down on the amount of time needed to pack, unpack, install, and take down the unit when the seasons change.
Efficiency
Because of the placement of the unit into the wall, these air conditioners tend to be more efficient. As they are snugly fit inside a hole in the wall, there is less opportunity for air escaping due to drafts. This feature can also save you money, as the higher the efficiency of the air conditioner, the less unnecessary costs you will have to incur on your electric bill.
Lower Cost
Buying a through the wall air conditioner is usually a mid to low cost option. These units are a more permanent solution than a window air conditioner, are easy to replace, and last longer. The average pricing for this type of air conditioner, including installation, is around $700 – $1300.
How to Choose a Through the Wall Air Conditioner
As you start shopping around for your through the wall air conditioner, there are a few details that are helpful to keep in mind so as not to get overwhelmed.
Specs
What makes the best through the wall air conditioner? The short answer is that it depends on your situation and what is the most important to you.
First, consider size. What is the square footage of the place you are wanting to cool? With that measurement, you can use our BTU calculator to assess the power capacity you will need for your unit. Some units go up to 15,500 BTUs, which can cool spaces up to 500 square feet.
Then, think about your energy efficiency. Do you want to minimize the amount of electricity you are using? If so, look into a unit that has timers and low-voltage startups, which can help you manage your usage much more precisely.
Finally, as mentioned earlier, there is also price to consider. Through the wall ac units are generally a mid-range to low-range price, between $500 and $1200 for the unit itself, plus installation costs which will result in around $700-$1300 total. While you may want to save the most money on the ticket price, it can sometimes be more beneficial to get a more expensive unit that is more efficient, and will save you money in the long term.
PTAC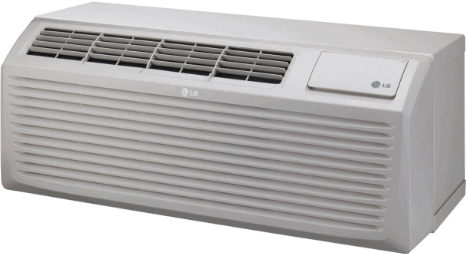 You may run into the acronym PTAC in your research. PTAC stands for packaged terminal air conditioner, and describes a self contained heating and cooling unit that is installed through the wall.
PTAC units are a great choice due to their energy efficiency and many come with a heat pump so the unit can be used for both heating and cooling a room.
What to ask about
Before you dive into the buying and installation process, consider chatting with a professional regarding things to consider for your particular situation.
Some things you may want to ask about include:
Cost of cutting the hole in the wall / installation
Electric wiring or plumbing considerations
Voltage requirements
Type of wall sleeve
Most of the time, through the wall air conditioners require professional installation, so it is a good idea to consult a contractor who can guide you on these areas.
Products We Recommend
As we said earlier, the right through the wall air conditioner for you will depend a lot on your specific needs. That said, here are a few units that we recommend:
Amana PTH153G35AXXX 15000 BTU Class PTAC Air Conditioner with Heat Pump
This unit is a powerhouse that is great for either residential or commercial use, with 14,700 BTUs of cooling power. It features a Sound Transmission Class (STC) of 28, which makes it quieter than other units, as well as an advanced condensate dispersion system that makes it more efficient.
General Electric AJCQ12DCG 11800/12000 BTU Through-the-Wall Room Air Conditioner
A great choice for general home and office use, this through the wall unit from GE is Energy Star Rated, making it a great choice for those interested in maximizing their energy efficiency, as it uses much less energy and is better for the environment. When the room reaches the desired temperature, it automatically turns off, so as not to over-cool the room. It also comes with a remote control and timer.
LG LP093HDUC1 9300/9500 BTU 12.9 EER PTAC Air Conditioner with Heat Pump
LG's through the wall air conditioners are the height of versatility, with uses ranging from dorm rooms to apartments and garages. It has 8,200 BTU capacity, and can function as either an air conditioner or heater. Plus, the power cord comes free with purchase at Total Home Supply. The standard size makes it easy to replace in another sleeve, and the compressors are developed in-house at LG.
Buying a Through the Wall Air Conditioner
If you are considering purchasing a through the wall air conditioner, you can feel confident in the choice of a space-saving, convenient, and energy efficient option for your space.
While the options might seem overwhelming at first, the most important elements to take into account are the power and energy efficient needs that you have. When weighing out the cost of different units, note that choosing an option with greater efficiency can result in longer-term savings. We recommend consulting a professional before purchasing or installing a through the wall air conditioner.
We've highlighted a few of our favorite products up above, but many more are waiting for you to check out in our wide selection of through the wall air conditioners at Total Home Supply. Easily compare, shop, and select the one that's right for you. If you'd like more information, you can contact us, and one of our skilled professionals will help you find the AC unit that will work best for your situation.