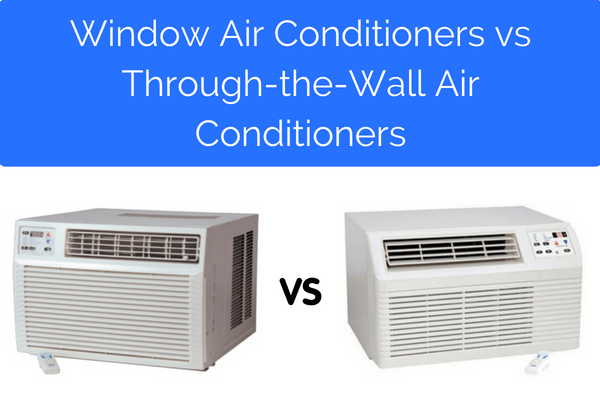 Window and through-the-wall air conditioners can be an ideal option for those with limited spaces or cooling needs. They offer a complete cooling system in a compact size, and they are perfect for servicing smaller spaces.
In this article, we discuss the difference between wall ac vs window ac units, what to look for, and some product recommendations.
Wall AC vs Window AC: What's the Difference?
Two common types of air conditioners that many people buy this time of year are an individual unit –– either a window or through the wall air conditioner. These ACs are both used to cool single rooms or spaces as mentioned above.
The main difference between window and wall air conditioners is their location. Window ACs are placed on a window sill, and wall ACs are placed in an exterior wall. Window air conditioners tend to be less efficient since some of the air is lost through the window and they take up window space, while wall air conditioners can be more time consuming to install but make for a more permanent, cleaner looking solution.
When it comes to choosing the right type of unit for your space, it is important to know the differences between the available options so that you can make sure that you are making the right selection for your space.
While both achieve the same end goal, there are some aspects of each that can be more beneficial depending on the type of space that you have. Here we will take a look at both types of air conditioner, and discuss some of the characteristics of each as well as some pros and cons, so that you can be sure you're making the best purchase.
What is a window air conditioner?
Window air conditioners are often the saving grace of the summertime. As a fairly inexpensive, easy-to-install air conditioner, window units are perfect for the DIY-phobic. All you need is an available window and a power source, and you are off and running.
Usually window air conditioners have a BTU range from 5,000 to 36,000, meaning they can cover an area from about 100 to 1,650 square feet.
Pros of Window AC Units
✓ One of the most affordable air conditioner options
✓ Easy to install
✓ Flexible (can be moved easily)
Cons of Window AC Units
X Can be noisy
X Visual appearance
X Takes up window space
X Less efficient than through-the-wall units
What is a Through the Wall Air Conditioner?
Through the wall air conditioners run similarly to window units, by retrieving air, running it through coils, then sending the cooled air into the room. They are installed in a hole in an exterior wall, and require installation of a sleeve due to their weight.
These units have a BTU range between 7,000 to 15,000, with a coverage area between 200 to 800 square feet.
Pros of Through the Wall Air Conditioners
✓ Save on space in a room
✓ Efficient
✓ Lasts a long time and is a longer term solution
✓ Easy to replace when you have an existing sleeve and most units are industry standard sizes
✓ Doesn't take up window space
Cons of Through the Wall Air Conditioners
X Complicated first time installation
X Smaller coverage area
Similarities & Differences Between Window and Wall Air Conditioners
When deciding between the two, there are some other similarities and differences worth taking note of.
Location
One of the biggest differences between window and wall air conditioners is their location. While one is installed right into an exterior wall, the other is placed on a windowsill. Some people may not like the fact that a window air conditioner takes up precious window space. It's harder to enjoy a view when an AC is blocking. Through the wall air conditioners are easier to somewhat hide in a room, and don't take up as much space.
Efficiency
Both types of units can be efficient in that they are often used to cool a specific room or section of a home and can be turned on and off when needed. However, through the wall air conditioners tend to be a bit more efficient since they do not have as much opportunity for air to leak out through the window. They also tend to be quieter than window AC units.
Power/Coverage Area
Window units tend to have a higher BTU range, which means that they are more powerful and can cool a greater space, but make sure to check the BTUs for your space to make sure you are getting the right power for what you need, and not too much or little.
Price
Both window and through the wall units are fairly inexpensive to purchase, but through the wall models have a higher installation cost at the outset. However, their better efficiency could save you money on your electric bill in the long term.
Long-term or short-term solutions
If you are looking for an easy cooling solution for your home, both of these types of units are great bets. For more of a short-term solution, window units can be a solid option since they are cheaper and tend to not last as long as the alternative. On the flip side, through the wall air conditioners can be better long-term options, as they are more permanently installed in the home and last longer. They are also easier to replace since an existing sleeve is already installed when the need for a new unit comes.
How to decide which to buy
When deciding which type of air conditioner to buy, start with the room or space you'd like to cool, whether it's a basement, attic, sunroom, addition, or the like. Measure the square footage, and use our BTU calculator to figure out how much power you'll need, which can be an easy way to narrow down your options.
From there, you can see which one makes the most sense for you.
If you're looking for a quick, powerful and easy way to cool down without much cost or installation hassle, window units are the way to go. But if you'd like more of a long-term, reliable solution and don't mind paying a little extra to get it installed, through the wall ac can be a great choice for many people.
Our Top Air Conditioner Picks
No matter which type of unit you're looking at, Total Home Supply has options for you.
Through the Wall Air Conditioners
Friedrich PZH15K5SB 15000 BTU Class Select Series 10.2 EER PTAC Air Conditioner with Heat Pump – 30 Amp – 230 Volt
Part of Friedrich's ZoneAire Select line, this PTAC model is capable of 14,300 BTUs of cooling and 13,200 BTUs of heating with its heat pump and electric heater. It can cover a larger room up to 550 sq. ft. and has an EER of 10.2.
Friedrich Select series provides reliable performance at an entry level price point while still maintaining the brand's quality and durable construction. This model is particularly suited for coastal areas  with its aluminum end plates and DiamonBlue Advanced Corrosion protection that guards against salt water corrosion.
GE AJCQ12DWH 12000 BTU Through-the-Wall Room Air Conditioner – 208/230V – WiFi Enabled – Energy Star
This through-the-wall AC has a 12,000 BTU cooling capacity and Energy Star certification with 10.5 CEER. While most through-the-wall models require a 7.5 minimum extension into the room with front, GE's model offers a true built-in look with only a minimal 5″ extension into the room.
The unit is also WiFi-enabled, allowing control from anywhere with an Internet connection. Other features include 3 fan speeds, 6-way directional air-flow, and color-matching Quick Snap sleeves sold separately for a more aesthetically pleasing look.
For more selections, check out our 2022 recommendations for through the wall air conditioners. 
Window Air Conditioners
Amana AH093G35AX 8700 BTU 9.8 CEER, 9.9 EER Window Air Conditioner with Heat Pump
If you're looking for a cost-effective and versatile window air conditioner with heat, the Amana AH093G35AX has both budget-friendly pricing and flexible use, as it can double as through the wall unit, and also features ball-bearing fan motors which run quietly, as well as multi-directional airflow for better circulation in the room.
Friedrich SL28N30C 28000 BTU Kuhl Series Window Air Conditioner – Energy Star Qualified – 208/230V
Make your AC smarter with this window AC model from Friedrich. With 28,000 BTUs, it can cool up to 1,900 square feet and even offers an option for Remote Link Wifi Control so that you can control your unit from anywhere through your smartphone or computer.
Get the Right Air Conditioner for You
As you decide which type of air conditioner to buy, keep in mind some of the biggest differences between window and through the wall air conditioners.
For a fast, cheap, easy, and powerful option, go with a window unit. For higher quality, longevity, and efficiency, opt for a through the wall unit.
No matter which option you'd like for your home or space, Total Home Supply has you covered. Shop our selection of air conditioners to find the right pick for you.