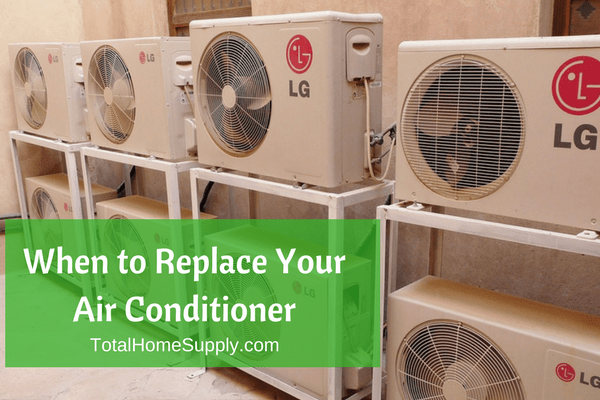 Repairing an air conditioner initially may seem like a good idea, but far too many homeowners quickly discover that they're in over their heads as soon as they begin the repair process.
Not only can the cost of repairing your AC quickly add up, but it can also prove to be ineffective in the long run. Like any appliance, an air conditioner needs to be replaced at some point, and anything beyond a minor repair might just be putting off the inevitable. If you've been wondering when to replace your air conditioner, then this article is for you.
Why Replace an AC?
So your air conditioner is on the fritz and giving you problems. You're now presented with a choice: Do you attempt to fix the issue, or do you replace your air conditioner entirely?
There is no correct answer to this question, as every situation is different. However, it's wise to consider these key things when making your decision:
Parts: Air conditioner parts are expensive, and they can be tough to purchase if you're entirely sure of what you need.
Cost of repair: If you're planning on outsourcing the repair work, the price of labor can cost you big time.
Time: Finally, fixing an air conditioner can cost you a lot of time. Whether you're thinking of taking on the project yourself or outsourcing the work to a professional, fixing your air conditioner can prove to be a time consuming task.
In many cases, the cost of fixing an AC unit outweighs the cost of buying a new one.
When to Replace Your AC Unit
Even if your air conditioner seems to be working just fine, you may want to consider replacing it if it meets any of the following criteria:
Your AC is more than 10 years old. A good air conditioner should last you about 15 years, but if your AC starts acting up before that expiration date, it may be better to replace it altogether than attempting to fix the issue.
Your AC uses R22. The federal government is cracking down on R22, a refrigerant that is now being replaced with R410A and other products that do less harm to the environment. By 2020, the sale of R22 refrigerant will be banned in the U.S. making, it difficult to service any units that use it.
Your AC is inefficient. If your air conditioner is using a lot of energy to cool your home, you may want to consider replacing it with a more efficient alternative. Federal regulations require new central or mini split air conditioners to be rated at a minimum of 13 SEER (14 SEER in some areas). If your unit is less efficient than this, it may be time for an upgrade.
Your AC isn't keeping your home cool. If your air conditioner isn't doing its job, it may be time to get a new one.
Moreover, you'll also want to keep in mind that certain types of air conditioners simply aren't worth the effort of repairing. Window AC units, for example, have a fairly short lifespan compared to other types of ACs. The upside is that they are cheap and easy to replace — so easy, in fact, that most people can do it themselves.
In a similar vein, PTAC, mini split indoor units, portable air conditioners, and through-the-wall air conditioners are easily replaceable and relatively inexpensive.
If your central air conditioner is less than 10 years old and giving you problems, it's worth trying to identify the issue and the proper solution. You can research some common air conditioner problems and opt to fix it yourself, but keep in mind that complex issues should be left for the professionals to deal with.
Should I Replace My Air Conditioner?
When shopping for a new air conditioner, you can count on Total Home Supply to have the right unit for your needs. Take a look at our AC Buying Guide to browse our best-selling options, then head over to our store to shop online and enjoy free shipping to anywhere in the contiguous U.S.
Need additional assistance? We recommend reviewing our BTU Calculator to ensure you get the right sized air conditioner for your needs. And as always, our team of HVAC specialists is here to help — contact us online or call us today at 1-877-847-0050.