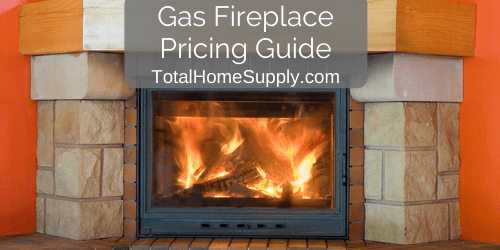 So, you've made the decision to install a new gas fireplace in your home. Not only does a gas fireplace makes a great supplemental heat source during the winter months, but it also provides a warm ambiance without all the mess and upkeep of a real wood-burning fireplace.
While all of this may sound great, we'd be remiss to not explain the cost to install a gas fireplace. Basically, the overall cost to add one to your home will depend on several factors, including the type installed and any add-ons purchased.
Gas Fireplace Cost
Depending on how advanced of a system you need, gas fireplaces range in cost from $400 (firebox only) to upwards of $3,000 (direct vent fireplace system). If you're looking for just a firebox, expect to pay $400 all the way up to $1,200. Typically, the larger and more featured fireboxes cost more than their smaller, basic counterparts. Vent-free or ventless fireplace systems are significantly less expensive than direct vent fireplace systems; however, direct vent are by far more efficient than vent-free. Direct vent units also offer a more realistic looking fire. Finally, gas stoves fall somewhere in the middle price-wise, ranging from $1,400 to $2,200. Advantages of gas stoves include efficient heating and a vintage, old-world ambiance.
Fireplace Add-on Average Costs
A basic system may not have all the bells and whistles you desire. Fireplace add-ons can enhance the performance, aesthetic, or both. Gas fireplace add-ons include gas log sets, burners, liners, and decorative accessories such as mantels and embers. All of these items will factor into the total price.
Log sets: Gas log sets are a big purchase with a large price range, so it's important to understand the different types of gas log sets before you make your purchase. Ventless gas logs are more energy efficient than vented gas logs, but vented sets have a more realistic looking appearance. Vent free gas logs range in price from $300 all the way up to $1,400, and vented gas logs range in price from $270 to $1300.
Burners: Gas fireplace burners have a wide price range, costing anywhere from $150 to $1,300. There are a number of factors that contribute to this huge difference, including size and the number of features included. There are various types of gas log burners, including millivolt, variable, and intermittent pilot, and the style you need depends on the type of fireplace purchased.
Liners: Firebox liners are accessories that decorate the inside of the firebox for an improved aesthetic. Firebox liners may feature patterns such as brick or stone and range in price from $130 to $300.
Decorative accessories: Of course, you may want to add on some decorative accessories to enhance the look of your unit. Any additional decorative accessories that you choose to purchase will increase the cost of your gas fireplace. These accessories may include embers, fire glass, decorative logs, louvers, and/or decorative frames. Depending on the type of accessory installed, these add-ons can range anywhere from $30 (for decorative rocks and embers) up to $770 (for cabinet doors).
How Much Does It Cost to Install a Gas Fireplace?
Gas fireplace installation costs depend on the type of gas fireplace purchased. There are two main types to consider here: vented, and vent-free (ventless).
Cost to Install Direct Vent
Typically, direct vent gas fireplaces are more expensive than the vent-free type. Direct vent systems rely on outside air for combustion. They vent to the roof or side of the house to operate, which may make them more appealing for those who are sensitive to the smell of ventless gas fireplaces. Direct vent options also allow for more flexibility with installation compared to ventless, which often have restrictions on where they can be installed due to safety concerns. Direct vent fireplace inserts can be installed directly into an existing wood fireplace that's equipped with a gas line.
Our direct vent gas fireplaces range in price from $1,170 to $3,330. Please note that this price range is for the firebox only and does not include the cost of a termination kit, blower kit, or other accessories. A contractor is required to install one of these units, and the installation cost will be greater than that of a ventless system. This is because direct vent units must be vented to the outside via the roof or the side of a home.
Here are some of our most popular options:
Cost to Install Ventless
As the name suggests, ventless gas fireplaces do not rely on a chimney and flue. Instead, they use air from the room for combustion. These are typically less expensive than vented options due to the fact that there is simply "less" involved for them to operate and installation costs are lower. However, because there is no vent system with these fireplaces, they may emit an odor, which can be unappealing for some folks.
Our ventless gas fireplaces range in price from $400 to $1,530. Please note that these prices are for the vent free firebox only and that you'll need to purchase liners, burners, and log sets as well. A contractor is required to install a ventless fireplace; however, the installation cost will be lower compared to that of a direct vent fireplace because there is no venting required.
Here are some of our most popular options:
Cost to Run a Gas Fireplace
The cost to run a gas fireplace depends on three things: the cost of gas in your local area, the type of gas fireplace purchased (direct vent or ventless), and the fuel type you're using (natural gas or liquid propane). Typically, natural gas options are cheaper to run than liquid propane options. Additionally, more heat is lost through direct vent fireplaces compared to ventless gas fireplaces; therefore, direct vent are more expensive to run.
Next Steps
There are many factors to consider when calculating gas fireplace costs. From the type purchased to the fuel type used, gas fireplace pricing is highly variable from household to household. Whether you're looking to add a cozy fireplace to a new home, or working on a home improvement project for your current home, shop our gas fireplaces to get a head start on your search for more warmth.
We at Total Home Supply understand that there is a lot to consider before making your purchase. Contact us with any questions you may have – we're here to support you and help you find the perfect option for your home.