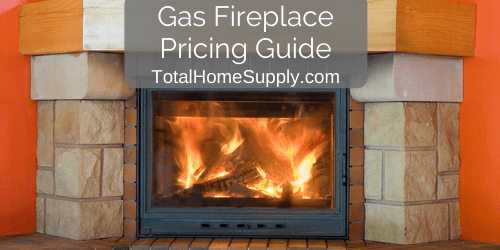 A gas fireplace is a great alternative to the traditional fireplace during the cold season. Not only does a gas fireplace make a great supplemental heat source during the winter months, it  provides a warm ambiance without all the mess and upkeep of a wood-burning fireplace.
In this guide, we explore the costs of gas fireplaces, from installation to running costs for the different types of gas fireplaces. We also discuss the costs of add-ons like gas log sets and decorative accessories.
Gas Fireplace Cost
Depending on how advanced of a system you need, gas fireplaces range in cost from $400 (firebox only) to upwards of $3,000 (direct vent fireplace system). If you're looking for just a firebox, expect to pay $400 all the way up to $1,200. 
Typically, the larger and more featured fireboxes cost more than their smaller, basic counterparts. Vent-free or ventless fireplace systems are significantly less expensive than direct vent fireplace systems; however, direct vent are by far more efficient than vent-free. Direct vent units also offer a more realistic looking fire. 
Finally, gas stoves fall somewhere in the middle price-wise, ranging from $1,400 to $2,200. Advantages of gas stoves include efficient heating and a vintage, old-world ambiance.
| | | |
| --- | --- | --- |
| Type | Cost | Note |
| Firebox  | $500 – $1,800 | Cost depends on size and features |
| Ventless gas fireplace | $1,300 – $2,800 | Considerably cheaper than direct vent, but less efficient |
| Gas stove | $1,000 – $3,100 | Midrange option with vintage feel |
| Direct vent gas fireplace | Up to $5,000 | Most efficient with realistic fire |
Gas Fireplace Add-on Costs
A basic system may not have all the bells and whistles you desire. Fireplace add-ons can enhance the performance, aesthetic, or both of the unit. Gas fireplace add-ons include gas log sets, burners, liners, and decorative accessories such as mantels and embers. All of these items will factor into the total price.
Log sets
Gas log sets are a big purchase with a large price range, so it's important to understand the different types of gas log sets before you make your purchase. Ventless gas logs are more energy efficient than vented gas logs, but vented sets have a more realistic looking appearance. Vent free gas logs range in price from $450 all the way up to $1,800, and vented gas logs range in price from $550 to $1800.
Burners
Gas fireplace burners have a wide price range, costing anywhere from $220 to $2,000. There are a number of factors that contribute to this huge difference, including size and the number of features included. There are various types of gas log burners, including millivolt, variable, and intermittent pilot, and the style you need depends on the type of fireplace purchased.
Liners
Firebox liners are accessories that decorate the inside of the firebox for an improved aesthetic. Firebox liners may feature patterns such as brick or stone and range in price from $130 to $300.
Decorative accessories
Of course, you may want to add on some decorative accessories to enhance the look of your unit. Any additional decorative accessories that you choose to purchase will increase the cost of your gas fireplace. These accessories may include embers, fire glass, decorative logs, louvers, and/or decorative frames. Depending on the type of accessory installed, these add-ons can range anywhere from $30 (for decorative rocks and embers) up to $900 (for cabinet doors).
Gas Fireplace Installation Cost
Gas fireplace installation costs depend on the type of gas fireplace purchased. There are two main types to consider here: vented, and vent-free (ventless).
Cost to Install Direct Vent Gas Fireplace
Typically, direct vent gas fireplaces are more expensive than the vent-free type. Direct vent systems rely on outside air for combustion. They vent to the roof or side of the house in order to function. This can make them more appealing for homeowners who are sensitive to the smell of ventless gas fireplaces. 
Direct vent options also allow for more flexibility with installation compared to ventless, which often have restrictions on where they can be installed due to safety concerns. Direct vent fireplace inserts can be installed directly into an existing wood fireplace that's equipped with a gas line.
Our direct vent gas fireplaces range in price from $1,750 to $5,000. Please note that this price range is for the firebox only and does not include the cost of a termination kit, blower kit, or other accessories. 
A contractor is required to install one of these units, and the installation cost will be greater than that of a ventless system. This is because direct vent units must be vented to the outside via the roof or the side of a home. The cost of a direct-vent installation ranges from $700 to $5,000 for labor only, and $2,100 to $10,000 with materials cost included. These materials include liner inserts, new vents, and gas tubing, as well as gas line modification.
Here are some of our most popular direct vent gas fireplaces:
Superior's DRT2033REN 33″ Direct Vent Fireplace
This top vented direct vent fireplaces comes complete with a black painted interior, Aged Oak Log Set and Electronic Ignition System with battery back-up. Also included is a bag of volcanic stone and glowing embers. The fireplace is concealed and features standard tempered glass for a clean, full-view face with a heat-circulating design.
 Optional add-ons include a ceramic buff stacked brick liner to replace the black interior, blower, remote and termination kit.
White Mountain Hearth DVLL36BP92 36″ Boulevard Contemporary Zero Clearance Direct Vent Fireplace
The Boulevard Series Direct Vent Fireplace offers a contemporary look with a linear burner and matte black liner. The burner is fully recessed so your fireplace will be filled with lively flames. 
It features an electronic ignition system so there is no standing pilot, as well as a battery back-up for manual or remote operation. With the remote, you can switch the unit to a standing pilot mode, which is recommended in cold climate areas. A beautiful flame dances and reflects inside the sealed combustion chamber. In the event of a power outage the intermittent pilot can operate with a standing pilot to provide heat.
The fireplace is available in natural gas or propane. The propane model requires a 100 lb. or larger tank and an external regulator with an output of 10.8 – 14″ WC. A termination kit is required to finish off the outside of the system.
White Mountain Hearth DVC20IN31 Innsbrook Direct Vent Fireplace Insert with Millivolt Burner
This direct vent fireplace is capable of 20,500 BTUs for heat using natural gas and 19,500 BTUs when using liquid propane. It comes with a blower, remote-ready millivolt burner, as well as a log set. There are different liner styles available ranging from traditional brown bricks to washed bricks, as well as a range of decorative fronts to suit your home.
Cost to Install Ventless Gas Fireplace
As the name suggests, ventless gas fireplaces do not rely on a chimney and flue. Instead, they use air from the room for combustion. These are typically less expensive than vented options since they require fewer parts to operate, and installation costs are lower. However, because there is no vent system with these fireplaces, they may emit an odor, which can be unappealing for some folks.
Our ventless gas fireplaces range in price from $400 to $1,530. Please note that these prices are for the vent free firebox only and that you'll need to purchase liners, burners, and log sets as well. 
A contractor is required to install a ventless fireplace; however, the installation cost will be considerably lower compared to that of a direct vent fireplace because there is no venting required. The average cost to install a vent-free gas fireplace ranges between $2,000 to $3,500.
Here are some of our most popular ventless gas fireplaces:
Monessen BUF36-R Vent-Free Exacta Firebox with Refractory Liner
The Exacta firebox from Monessen uses Natural Blaze burners that provide taller, more lively flames for a truly realistic fire. The result is beautiful yellow flames that are instantly achieved as soon as the burner is switched on.
The firebox boasts a clean louverless face and a large 36″ x 24″ viewing area. Inside, it comes with grey stacked brick, traditional interior panels. The safety screen can be tucked away into hidden side pockets offering a full, unencumbered view. The firebox can accept 18″ and 24″ vent free burners and log sets.
White Mountain Hearth VFD32FB0F Deluxe 32 Breckenridge, Vent-Free Firebox with Flush Face
The Breckenridge Deluxe 32 is the perfect vent-free firebox for tighter spaces, thanks to its flush/radiant face. It will accept any certified vent-free burner and log set, and zero clearance certified.
For this 32″ firebox, an 18″ burner and corresponding log set is recommended. White Mountain Hearth offers several valves with their Slope Glaze Burners. Total Home Supply has a full array of options and accessories for the Breckenridge Deluxe 32 Firebox including brick liners, mantel cabinets, louvers in different patterns and finishes, as well as doors and frames in matching designs and finishes.
Empire VFPA32BP31L Vail Premium 32 Vent-Free Fireplace with Millivolt, Remote Ready Burner and Factory Installed Blower
This vent-free fireplace box is capable of up to 32,000 BTUs and is 99.9% efficient. Included is the Slope Glaze Millivolt burner which includes ceramic glazed pellets that tumble and swirl the gas, creating beautiful, flickering flames. The Vail Premium Fireplace includes a protective barrier screen, outer frame, hood and louvers in Matte Black.
The interior comes in plain black as standard, but can be customized with aged brick, stacked limestone, traditional brick or banded brick liners. The only additional requirement is a log set.  There are two 24″ log sets available for use: either a 5 piece ceramic fiber or a 6 piece refractory log set. 
The unit is available in either natural gas or liquid propane. It can also be ordered with our without the factory blower.
Gas Fireplace Running Cost
The cost to run a gas fireplace depends on three things: the cost of gas in your local area, the type of gas fireplace purchased (direct vent or ventless), and the fuel type you're using (natural gas or liquid propane). Typically, natural gas options are cheaper to run than liquid propane options. Additionally, more heat is lost through direct vent fireplaces compared to ventless gas fireplaces; therefore, direct vent fireplaces are more expensive to run.
A small 10,000 BTU gas fireplace costs an average of $0.15 per hour to run. A standard 20,000 BTU gas fireplace costs around $0.30 per hour, while a 38,000 BTU unit can go up to $0.40 per hour.
Next Steps
There are many factors to consider when calculating gas fireplace costs. From the type purchased to the fuel type used, gas fireplace pricing is highly variable from household to household. Whether you're looking to add a cozy fireplace to a new home, or working on a home improvement project for your current home, shop our gas fireplaces to get a head start on your search for more warmth.
We at Total Home Supply understand that there is a lot to consider before making your purchase. Contact us with any questions you may have – we're here to support you and help you find the perfect option for your home.